Dentist in Chelsea New York, NY
All our professionals at Dr. Joseph Sachs & Associates maintain the highest levels of accreditation and pursue ongoing education to stay abreast of the latest trends in dentistry.
Joseph Sachs, D.D.S.
Cosmetic Dentist in Chelsea New York, NY
Dr. Joseph Sachs & Associate
Dr. Joseph Sachs is a native New Yorker. He received his D.D.S. degree from the State University of New York at Buffalo School of Dental Medicine in 1994. Dr. Sachs then completed a one-year residency at the Jamaica Hospital in Queens, New York. During his residency, he met his longtime associate and friend Dr. Robert Cruz.
In 1997 Dr. Sachs acquired ownership of his current general & cosmetic dentistry practice. He is known for his specialization in cosmetic rehabilitation. Serving the Manhattan area for over twenty years he is widely known and respected in the field of Dentistry.
Dr. Sachs has three beautiful children and enjoys spending time with his family. He subscribes to the philosophy of family dentistry. Dr. Sachs puts pediatric patients at ease and enjoys working with them and watching them grow.
---
Robert Cruz, D.D.S.
Dr. Robert Cruz graduated and received his D.D.S. degree from the New York University School of Dentistry in 1994. He then completed a one-year residency at the Jamaica Hospital in Queens, New York. Dr. Cruz and Dr. Sachs became good friends and colleagues during their residency. Dr. Cruz joined Dr. Sachs as an associate in his practice soon after and they have practiced together ever since. Dr. Cruz's soothing demeanor and gentle touch are very appreciated by his patients. Dr. Cruz is an exceptional dentist with an insight to his patients' needs.


Aphrodita-Daily Operations Manager
Aphrodita supervises, coordinates, and organizes activities of business practice while overseeing planning, systems, and controls.
---
Maria - Dental Assistant/Dental Assistant's Supervisor
Maria has been with Dr. Sachs since the beginning of his career. Together they have a chemistry that makes the patients feel welcome and at ease. Maria is a great liaison between Dr. Sachs and his patients. She is a very talented dental assistant with a gentle touch that patients respect.
---
Dental Assistants
Anamaria & Lara will do everything within her power to make your dental experience comfortable and stress free. They have a gentle touch and a high level of skill. They will escort you from the waiting room and stay by your side throughout your entire visit. They will take your x-rays and chairside assist.They both have a wide knowledge base of the procedures and will be happy to answer and explain any you may have. They are both bilingual in both Spanish and English.
---
Dental Hygienists
Our highly trained and professional Hygiene staff not only clean your teeth but help our patients manage your periodontal health, by educating our patients on how to successfully prevent disease and maintain the health of their teeth and gums. They are available to answer questions you may have regarding aspects of your hygiene regime
William
Available Monday, Wednesday, Friday and Saturday
---
Front Desk
Our friendly and professional Front Desk staff are your first line of contact with our office. Their duties are not only to communicate your dental needs to the doctor and to set-up your appointments, but also to act as a liaison between you and your insurance company so that your claims are paid in a timely fashion. They are also meant to help put your mind at ease as they are proficient at insurance billing and are extremely familiar with all the operations of our office. They are meant to be a great resource for you as you try to understand what your dental procedures entail and what costs will be incurred. We take pride in the fact that they are able to help create a calm and pleasant atmosphere for our patients.

Lesley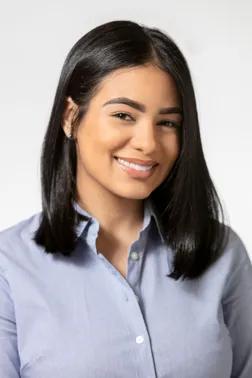 Mercedes